Create

your own

store

in minutes
Get all the essential features you need to operate a successful storefront quickly and easily.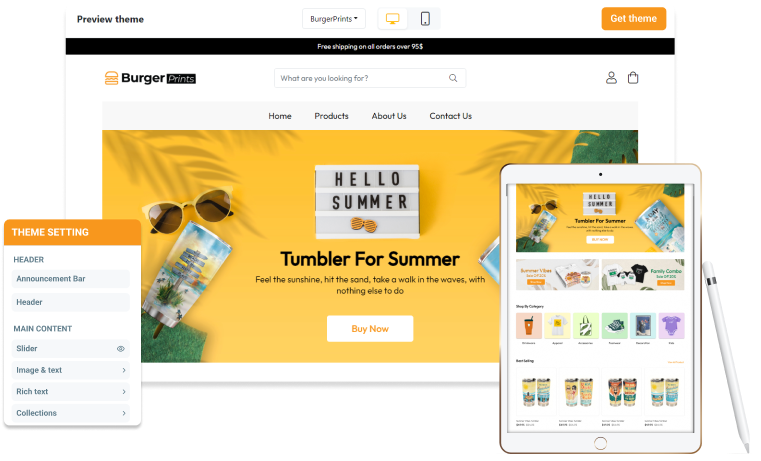 Flexible payment integrated
Fully integrated with familiar gateway: Stripe, Payoneer, Paypal, Tazapay and more.

Optimized for Print-on Demand
BurgerPrints storefront is designed for resiliency with a solid grasp on POD selling functionality.

Scaling
Our powerful storefront builder offers performance, security, integration & analytics tools to help you succeed.
How it work?

1. Create an online store
Create a BurgerPrints store and choose a template you love from our library without any fee.

2. Setup your payment
You need to set up your own payment gateway.

3. Add products & sell
With our free design tools, you can upload thousands of designs and your product mockups will be created automatically.

4. We print, pack and ship
your orders
BurgerPrints will print, pack, and ship the products to your customers, so you don't have to worry about the fulfillment process.

5. Own your property
We just provide the Essential Tools, you OWN your property. This mean, you own the payout, the cash flow, the customer and everything else.
Store feature
Everything you need for your ecommerce business growth
Website Design & Features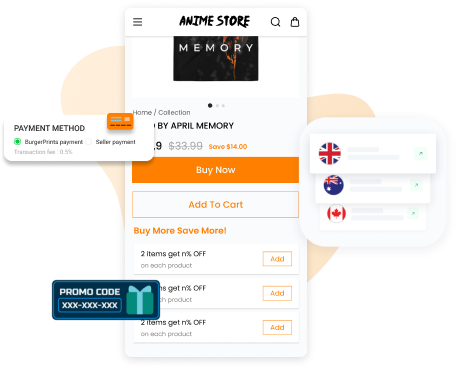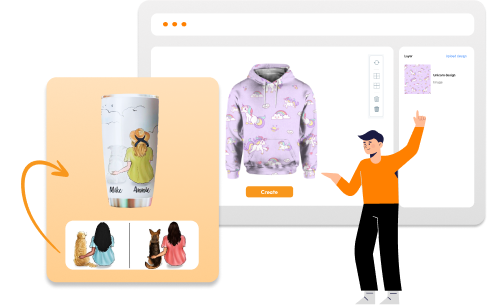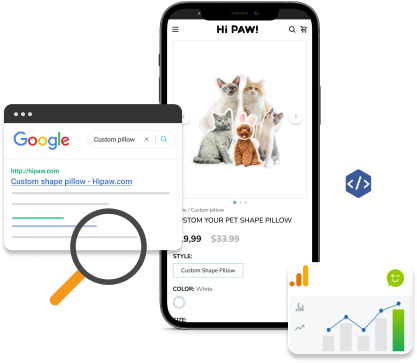 Create a stunning website in just few steps

SignUp
Signup for a BurgerPrints account


Create
Create an online store


Create
Create your product


Customize
Customize your store

Setup
Setup your payment gateway

Connect
Connect a domain

Publish
Publish your store and start selling on the internet
Pricing
Basic
Perfect to get started
Basic includes:
Transaction Fees: 2.0 %
Build an online store featuring your brand
Unlimited orders
Unlimited products
Unlimited integrations
Unlimited sales channels
Automated Fulfillment
One Page Checkout
Unlimited integrations
Personalized products support
Stripe & PayPal & PO Payment
Free SSL certificate
Up-sell & Cross-Sell
Customer service support
Automated abandoned cart recovery
Advanced analytics & reports
Google Shopping integration
Product review support
Blog support
Unlimited sales channels
Automated Fulfillment
One Page Checkout
Unlimited integrations
Personalized products support
Stripe & PayPal & PO Payment
Free SSL certificate
Up-sell & Cross-Sell
Customer service support
Automated abandoned cart recovery
Advanced analytics & reports
Google Shopping integration
Product review support
Blog support
Standard
Best for small business
Basic includes:
Transaction Fees: 1.0 %
Build an online store featuring your brand
Unlimited orders
Unlimited products
Unlimited integrations
Unlimited sales channels
Automated Fulfillment
One Page Checkout
Unlimited integrations
Personalized products support
Stripe & PayPal & PO Payment
Free SSL certificate
Up-sell & Cross-Sell
Customer service support
Automated abandoned cart recovery
Advanced analytics & reports
Google Shopping integration
Product review support
Blog support
Unlimited sales channels
Automated Fulfillment
One Page Checkout
Unlimited integrations
Personalized products support
Stripe & PayPal & PO Payment
Free SSL certificate
Up-sell & Cross-Sell
Customer service support
Automated abandoned cart recovery
Advanced analytics & reports
Google Shopping integration
Product review support
Blog support
Basic includes:
Transaction Fees: 0.5 %
Build an online store featuring your brand
Unlimited orders
Unlimited products
Unlimited integrations
Unlimited sales channels
Automated Fulfillment
One Page Checkout
Unlimited integrations
Personalized products support
Stripe & PayPal & PO Payment
Free SSL certificate
Up-sell & Cross-Sell
Customer service support
Automated abandoned cart recovery
Advanced analytics & reports
Google Shopping integration
Product review support
Blog support
Unlimited sales channels
Automated Fulfillment
One Page Checkout
Unlimited integrations
Personalized products support
Stripe & PayPal & PO Payment
Free SSL certificate
Up-sell & Cross-Sell
Customer service support
Automated abandoned cart recovery
Advanced analytics & reports
Google Shopping integration
Product review support
Blog support
FAQs